The Beatles told us that "Money can't buy me love." Good advice, but law firms are trying to buy love anyway, hoping that huge bonuses will keep the associates they need. The tactic isn't working. In the last 12 months, associate compensation has risen 10%, yet attrition is over 14%. So, what can law firms do to retain associates? I discuss one very easy step below.
The holidays are coming up fast, and year-end is a time when people contemplate their future plans. It's the perfect time for my book, Retirement by Design. As the 100-year life becomes a reality for more and more people, we need to think about retirement in a completely new and different way. Below I explain why our increasing longevity makes creative retirement planning essential, and how my book can help you design a happy, meaningful and adaptable future.
In addition to the private consulting, programming, and presentations I've been doing about mentoring and retirement, I have done many webinars, programs, podcasts, and articles that are available to the public. As you scroll further down, you'll find links to some of those resources.
My sincerest wishes to you all for a very happy Thanksgiving. These last two years have shown us how much we have to be thankful for, and this year should be especially meaningful as more of us are able to celebrate in person with family and friends. I hope your celebration is filled with joy, togetherness and gratitude.
Money can't buy you love, but mentoring behaviors can make love happen
Law firms are in a tough bind. The competition for talented associates is fierce and when one firm ups the compensation ante, other firms face pressure to match it. They've been offering annual bonuses, performance bonuses, signing bonuses, referral bonuses, special bonuses, and basically throwing tens of thousands of dollars at associates. But all that money isn't making associates any happier, more productive or loyal. Associate turnover is one of the most critical problems facing law firms today.
Using money as a talent retention strategy has limited utility. While the extra money may be appreciated, it also becomes a new baseline; when repeated, it becomes a new expectation. And when such bonuses become the norm, they do not add to associate satisfaction; instead, if the firm fails to pay a bonus, it causes dissatisfaction. Besides, associates can make as much or more money at a competitor firm, so a bonus isn't enough to keep them.
What associates want from firms is professional development and personal attention. They want to be acknowledged, valued, encouraged, and supported. They also want a sense of purpose, a belief that they are accomplishing something important. Extra money may keep them in the short term – and for firms facing an extreme staffing shortage, that may be sufficient for now. But most associates today will not sacrifice their professional growth or personal well-being for it in the longer term. The investment they want from firms is not just financial; they want individualized attention, good work experience, and opportunities for growth. If they feel neglected, burned out, and developmentally frustrated, money is not enough to make them stay.
Mentoring is far more likely than money to provide what associates want and need. I'm talking about mentoring in action, not a mentoring program. The act of mentoring has long been seen as a way to increase the likelihood of associate retention because it is personal. It happens when a mentor listens, engages with, and lets an associate know through actions and words that "I care about you as an individual. I know you can succeed and I want to help you do it."
This can occur with or without a mentoring program. No formal mentoring or assigned mentors are required, and much of it can happen with very little time or effort. The key is for supervising lawyers to behave like mentors.
The power of mentoring comes from human connection. Mentoring is relationship-based; learning and professional development occur through personal interactions. Associates are far more likely to be engaged when they feel personally connected to others in the firm and believe that those people – and through them, the firm – genuinely care about them as individuals with potential to be excellent lawyers. When they have the opportunities and personal support they need to achieve success, they strive to achieve it.
Associates naturally look to their supervising lawyers for mentoring in the course of their regular interactions. Supervising lawyers can do a lot to mentor the associates they work with through small, everyday acknowledgements of the associate's value and accomplishments. These are simple behaviors, public and private, big gestures and small, overt and subtle, that show they want to help the associate do well and be well. Lawyers who are in the habit of doing these things eventually do them unconsciously. Most involve just being kind, showing interest or concern, and letting the associate know you truly care about them as a person, not just a generic associate.
Here are a few examples of how supervisors can engage in mentoring behaviors:
When giving an assignment, explain how and why it will be a good learning opportunity.
Describe your client, the client's industry, and the nature of your representation.
Commend and congratulate associates for accomplishments.
Give them credit publicly.
Introduce them to someone in the firm or in your network.
Invite them to attend a client meeting.
Check in to see how they are doing.
Call them with no special agenda, just to be friendly.
Refer to something from a prior conversation to show that you listened and remember.
Give constructive feedback in the moment.
Ask for their opinions.
Offer specific support for a known challenge.
Smile, nod, make eye contact when you speak with them.
Pronounce their name correctly.
Most of these are small, simple actions that take very little time, but they lead to greater self-esteem, improved performance, as well as greater connection to the mentor-supervisor, and through them, to the firm. When lawyers build these behaviors into daily practice, they can foster a healthier, more inclusive firm culture.
Firms are making huge financial investments in hiring associates. Having a more welcoming, supportive, personalized mentoring culture is the surest way to protect that investment and retain the valuable talent your firm needs.
Retirement by Design makes a great gift for yourself and others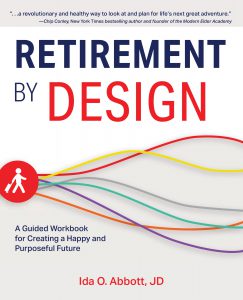 As you think about possible holiday gifts, Retirement by Design is a great choice for any friend, family member or colleague who is (or should be) thinking about retirement and what their "next act" will be. It is also a great gift for yourself if you are starting to think about retiring.
People are redefining what retirement is and what it could be, and recognizing that retirement is often temporary. So, whether you're 75 and planning for the next 20 years, or 35 and planning for multiple retirements, Retirement by Design will help you find the best way to do it. It is designed to help people of any age anticipate, plan and adapt to life in retirement. Increasing longevity makes it imperative to do this. Individuals age 65 today can expect to live well into their 90s, and the amount of time people spend in retirement has tripled since 1935, when social security started. Aside from making financial planning harder, planning for a long and meaningful life after retirement is highly complex. Even if you are already retired, you still have to revise and adjust as interests and circumstances change.
Retirement by Design enables you to do that. Its design thinking approach embraces creativity and flexibility. Its workbook format makes it highly versatile for individuals and groups. Some people meet with a few friends to work through the book together; some couples buy two copies, working on a chapter separately and then together; and some firms buy copies for all their senior professionals, often in connection with a program focused on succession and retirement.
You can learn more about Retirement by Design and find purchasing information here or on my website, where you can also find many other resources about retirement transitions for individuals and retirement processes for firms.
If I can help you or your firm with advice, programs, presentations or coaching on retirement issues, please contact me.
Podcasts and webinars
During the last quarter, I've spoken and written about planning for longevity, succession and retirement with individuals and audiences in a variety of different venues, forums and media. Some of them have been recorded and are available to the public. Below are those that you can access plus a couple of upcoming programs to put on your calendar.
Webinars and other virtual programs
Podcast
ZestfulAging.com: For her Zestful Aging podcast series, Nicole Christina and I spoke about a host of issues related to retirement. The podcast will be posted on November 27, so calendar the date and tune in to listen.
Article
"Retirement: A Time for Jubilación," published by AttorneyatWork, explains how design thinking can help you rejoice in retirement. Read it here.
New Website and Conference Date
Lastly, take note! The National Legal Mentoring Consortium has a new website. Check it out and become a member. And be sure to save the date for our next national conference, October 6-8, 2022 in Chicago!